While some are "cleaning up" by getting a commendable 10,000+ people to pay attention to both their projects and the LEGO brand in general (many of whom aren't dyed-in-the-wool FOLs, which I think is pretty good publicity for LEGO), it looks like The LEGO Group is quickly trying to do a little bit of "cleaning up" themselves. When the North American version of LEGO CUUSOO was launched, I was genuinely excited. I was pretty impressed by what I interpreted as The LEGO Group's innovative experimentation with some pretty creative marketing and community relationship building strategies. The equation seemed so simple: Get 10,000 supporters and you might be seeing your project transformed into a high-quality LEGO product. Some hopefuls went to work creating unique projects to upload onto CUUSOO while others excitedly created CUUSOO accounts and handed out their support to all the fun proposed projects that they'd actually consider buying. But the reality of that all-important "might" set in, and it's getting more and more apparent what the limitations of CUUSOO are.
Of course, we all should have known better. (Granted, many were sober about the possibilities from the beginning…just have to acknowledge you cynically cool characters out there…you know who you are.) Don't get me wrong…I by no means fault TLG. They did their best to be set expectations early on, but it's apparent that even they realized after the fact that they could've set some more explicit groundrules from the beginning. First, mojang's Minecraft Project broke the 10,000 supporter barrier, much to the surprise of FOLs everywhere. Some of us hmmm'd and haaaa'd…but then just sort of smiled at the possibilities. If the Minecraft clique could propose a project based on a popular video game property, perhaps there's hope for other projects proposing new (albeit limited) licenses for other video game titles or movies, comics, etc.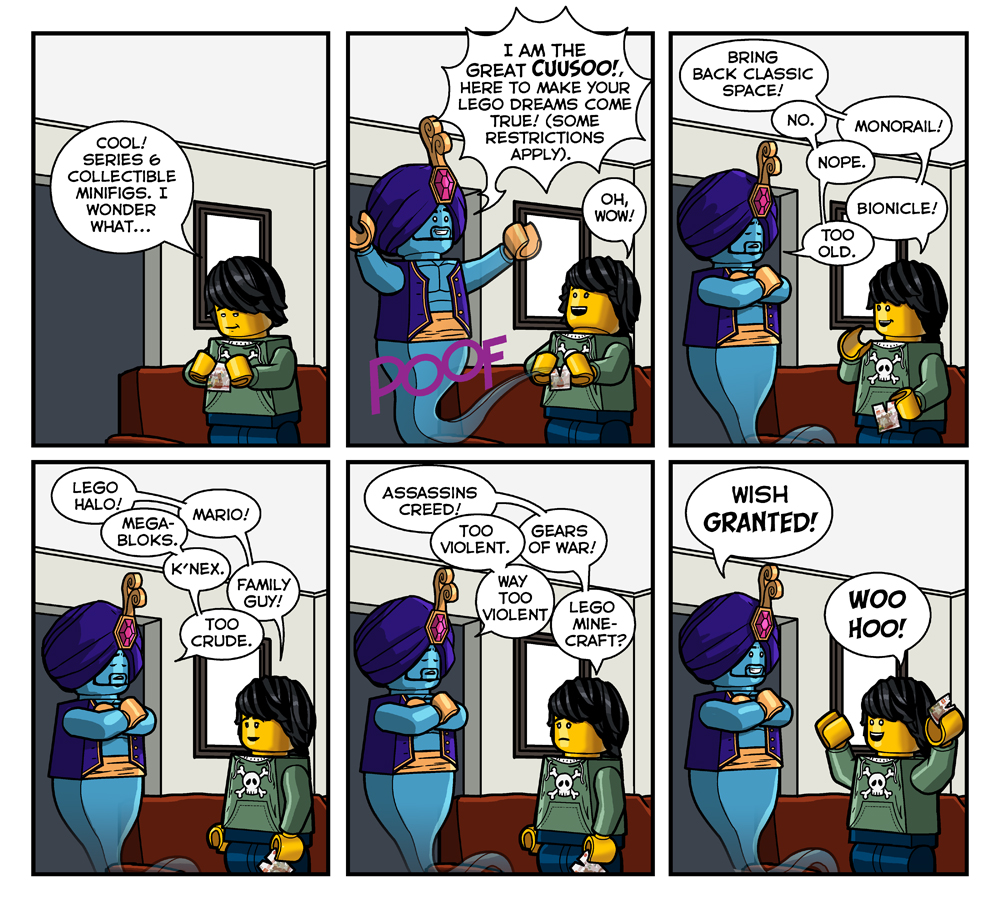 [Click to read FBTB's comic jab at CUUSOO wish-fulfillment]
Then came a project based on an extremely cool British dark comedy. After yatkuu's Shaun of the Dead – Winchester model achieved their 10,000 supporters with the help of some celebrity campaigning, many of us waited excitedly to see what would happen. Sure, we knew there was the violence factor, but Minecraft… Much to the chagrin of many an AFOL, TLG understandably said "Nope." Who were we kidding? Did we forget the "play well" behind the "LEGO" name? Oops…guess we did for a sec. So yeah, of course TLG had to protect the brand—the values it was built on, the core audience of youngins, and the business model that's successfully built the toy that we all know and love. So they quickly announced they'd be reviewing all CUUSOO projects through a new screening process.
Since then, it's important to note, some amazing projects have successfully hit the 10,000 supporter barrier that, not too long ago, seemed so few and far between. There's czar's Eve Online Project and (my personal favorite) M1NGLES' Legend of Zelda Project, both of which are pending review to decide on whether or not they're production worthy. However, there was also The Firefly Project, which I was rooting for because 1) it's a cool ship and 2) I've been a Whedon fan since Buffy, but similarly to the Westchester, we were given the "gotta protect the brand" smack down. Target audience. Brand values. Makes sense…but still a bummer for the alleged violence-loving nerds like me. The jury's still out on the two aforementioned projects, but I think we're all getting some clarity on how tough it's going to be to actually see our CUUSOO wishes reach fruition. (By the way, it's a bit of a bummer how you can't find these "archived" projects too easily. As of 6:12am Pacific, if you search "Firefly" or "Winchester" and the like, you won't find what you're looking for. Chances are it's an oversight or the result of the projects' poor tagging. Hope they figure that out, especially for those who succeeded in getting 10,000+ eyeballs on the LEGO brand.)
On a personal note, yesterday, my shot-in-the-dark project based on an original adventure-based throwback sci-fi theme called "Brick Rogers: The Galactic Girl from the 5th Century, AE" was pulled from CUUSOO. Again, I'm not faulting TLG. I totally get it. But for reporting and discussion purposes, here was the email I received:
Dear Ka-GO,

We are sorry to inform you that your LEGO CUUSOO project "Brick Rogers: The Galactic Girl from the 5th Cenury AE. < http://lego.cuusoo.com/ideas/view/6690 >" has been removed to reflect the new Project Guidelines (http://lego.cuusoo.com/guidelines), which do not allow content related to realistic or extreme violence. Please review the Project Guidelines and House Rules when posting future projects.

Thanks,

The LEGO CUUSOO Team

http://LEGO.cuusoo.com
Now I totally accept it, but have to wonder about two things. First, why pull it? I mean, for archiving purposes, why not have it there as a point of reference to "teach" us what's violent and not to help CUUSOO get more of the types of projects they're actually looking for. Second, I'm scratching my head about the standards that deemed that this project was depicting "realistic or extreme violence" but gives a pass to, say, LEGO Star Wars, Prince of Persia, Alien Conquest, Ninjago, or Hero Factory. Maybe I'm missing something. Little ol' me aside, I'm especially worried what this might mean for some of my other favorite CUUSOO projects, like the venerable Space Marines by NickRoyer. I mean, TLG just officially released a space marine of their own…or rather, a Galaxy Patrolman. At the very least, I'm hoping they don't just pull this awesome project off the site like they did Brick Rogers (or countless others). Doesn't seem to make sense. (Full disclosure: My crappy project had like 3 supporters, while the Space Marines have about 3000+…so there's that. Ha!)